Happy Friday!
I hope you all had a fantastic week and are ready to slow down and enjoy the weekend! It's Mother's Day on Sunday so i'm sure i'll be occupied with festivities. In addition to it being Mother's Day weekend, in Albany, NY it's Tulip Fest! I can't wait to get out Saturday morning to go get some pictures of the tulips before the crowds get too big. What are you plans for the weekend?
So in keeping up with Friday tradition, i'm sharing what I loved this week, starting with….
// Last-Minute Mother's Day Gift Ideas- Coming Up Roses
Erica shows off some great, last minute gifts you can get your momma for Mother's day. Or, any day of the year! I love the variety of gifts she showcases because everyone's mom is different. While i'm getting my mom a grill this year, I'd gladly get her any of these other ideas. Plus, you can always keep them in mind for your mom's birthday or for any lady in your life really.
//Canvas Classics in Ash- Toms Shoes
Man oh man do I love my Tom's shoes. I've been buying these for years and will continue to buy them for years to come. They're comfortable without being cumbersome. I'm a person who doesn't like regular sneakers and these are the perfect substitute. My old pair had lasted me 3 or 4 years and while still fine to wear they have some pretty gross stains I can't get out. So, I bought some new ones and I'm in love. Plus, for every pair you buy, a pair gets given to a child in need. Heart eye emojis everywhere. Are you guys fans of Toms?
// Lessons Learned From Being Published on Huffington Post- Love The Here And Now
Back when Anne shared her and her daughter's post about anxiety I was really moved by it. As a sufferer of anxiety it's hard to often put into words how you feel and Anne's daughter did it perfectly. The best part of the post though was that Anne shared her thoughts and feelings on anxiety as the parent of a sufferer. I had honestly never considered how my anxiety affected those around me until I read that post. It sounds selfish, but when you're having an episode it's hard to think of anything but yourself and your condition.

// Small Business Week- Why And How To Support Small Business- My So Called Chaos
My very first job was at a small business and I loved it. Ever since starting to work there i've been a supporter of small businesses. It's so important to keep local economies going, plus, they always have the best stuff! And, as Angie mentions, you're supporting real people! They could be your friends, your neighbors, or bloggers you follow. I celebrated by ordering a t-shirt from Taylor over at The Daily Tay (I'm sure you all know and love her already). I've been meaning to for weeks but as soon as I heard it was small business week, I had to pull the trigger.

//Packing for Vacation!
I'm so ready to get on this vacation ready that i've started packing a bit. I've set aside some outfits and I've got all my sample sized makeup set out to toss in my makeup bag any second. I like to think i've gotten pretty good at packing, mainly because of my mild OCD and crazy list making skills. Check out my previous packing posts here, here and here. And please tweet me your best packing tips!
Let me know your favorites from this past week below!
Linking up with: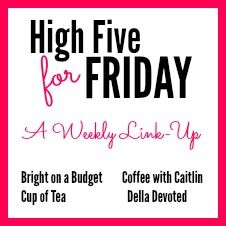 Like what you see? Share it!