Hello and happy Friday!
Let me just start off saying that I love having a Monday through Friday job but dang, it's weird not having a day off in the middle of the week to break things up. Definitely not complaining though because now I actually have the whole weekend off to play! Unfortunately here in upstate NY it is not weather to play in. It's supposed to be freezing this weekend. The daffodils in my yard are blooming and they're probably all going to die this weekend :-[ so please, cheer me up and share tons of pictures of your beautiful blooms on Insta this weekend!
Anyways, i'm here today sharing some of my favorite things from the week and i'm going to kick it off by sharing my own post from Monday just because I can :-]
I loved writing this post because I love sharing personal things with you guys. I think self care and self improvement are very important and a while ago I set out to work on my shyness. Monday I shared that story with you guys so go give it a read if you want to learn a bit more about me!
I am always all about Lindsay's posts but this one especially. We all want to relate to our followers but we also want to have really pretty Instagram pictures. It's a dilemma. Seeing picture after picture of your life that looks perfect can get super annoying so throw in some real life for me will ya! But also, don't stop showing those perfect flat lays because I love them too. Hopefully i've got a good mix of "every day real life" and "this is totally staged but I want you to see this because it's really pretty" pictures. Also, I don't think any of that made sense because i'm super tired.
This linkup that Alex created is so fun! We're all a bit awkward and it's fun to share those weird moments with our internet friends. What's more fun than having a good chuckle at yourself? Not much. If you aren't reading Always, Al you really need to check her out, especially because she's getting married this year and it's so fun to keep up with her planning.
If you have a blog, you need to read this post all about terms and conditions. I don't speak legalese at all and Jackie is great at explaining the legal side of blog stuff. She is a lawyer after all! Creating a terms and conditions for my blog has moved up to the top of my priority list this weekend. Do you guys have one for your pages?
//Double Chocolate Peanut Butter Smoothie Bowls- Jessica @ How Sweet It is
Yes, you read that right. chocolate and peanut butter smoothie bowl. I am obsessed with peanut butter. And I have yet to get on that smoothie bowl trend. But, as soon as Jessica mentioned that the texture reminds her of the inside of a peanut butter cup I was on board. Pinned this and wrote down the ingredients for the next time i'm at the grocery store.
Question(s) of the day! Do you guys have terms and conditions on your blog page?
Have you ever made a smoothie bowl? What were your thoughts?
Linking up with: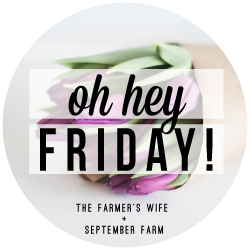 Like what you see? Share it!