Hello Readers!
Today i'm sharing with you an outfit for the Creative Closet Linkup hosted by Jana and Maegen! I always love their prompts for the Creative Closet but I always forget about it and hardly get the chance to join in. Today, however, I'm prepared!
This wasn't the original outfit I was going to wear but, I tried out this lipstick and had to change tops. The original shirt just wouldn't go anymore. You all know how that is. Anyways, The top is from Marshalls and is a beautiful chiffon blouse with a high neck in the front and a bow detail in the back that's low enough to show off my tattoo. Unfortunatly, I was taking pictures alone and in my mid-day sun blindness, I didn't realize that my tattoo picture was super blurry. #bloggerproblems.
Moving on.
The shorts are from American Eagle and they are my favorite pair of jean shorts. They're long enough where I don't feel like my butt is hanging out but they aren't super long "mom shorts" either.
And, the metallic? It's a bib necklace from Forever 21. I love this necklace so much because of just how shiny and "look at me" it is. Plus, because it's from Forever 21, it was incredibly cheap, so when it starts to get gross, I won't feel bad tossing it.
That's it for the outfit, but If you're wondering what lipstick i'm wearing it's the Stila Stay All Day Liquid Lipstick in Beso. I got this in my Birchbox this month and i'm obsessed with it. This is the first matte lipstick that doesn't dry out my lips. It's amazing. Check back here on Wednesday to read about everything else I got in my Birchbox! (the link is to my referral for Birchbox)
Don't forget to join the linkup below!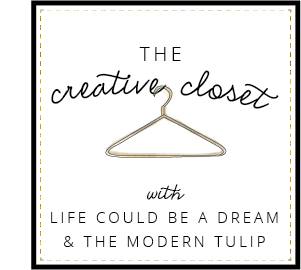 ♥ Leanna
*Link to Birchbox will earn me points that I can use for products if you sign up. All other links contain no affiliates. No products were sent to me for free and all opinions are my own.
---